Hospital Management Software with Accounting & Billing
---
Diagnostics Reports Fee Charge Setup
Diagnostics Reports Fee Charge Setup, Setting Up Fees For Each Diagnostics Reports, Diagnostics Reports Charges
There is a separate billing module provided in the software for the Diagnostics report.
Diagnostics reports can also be added as billing items in the menu command
Fee Charge Setup
and can be inserted in the bill while the patient is dischanged and his bill is made. Here the amount received is posted in account head named INDOOR PATIENT FEE COLLECTION.
For the outdoor patient the if any diagnostics. Reports are advised and carried out then the bill can be provided by this separate billing module for diagnostics report. Also when the diagnostics reports are billed from this module the amount received is posted in each of the individual report's account head that can be specified using the menu command Diagnostics Reports Fee Charge Setup.
This menu command is located under the main menu named
Diagnostics Reports
. Click the menu command named
Diagnostics Reports Fee Charge Setup
to start this setup. Following window shall be displayed.
DiagnosticsReportChargeSetup.bmp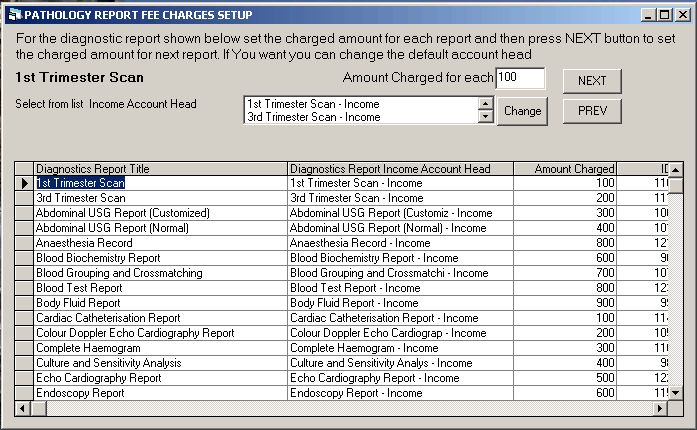 Diagnostics Reports Fee Charge Setup;Setting up Fees for Each Diagnostics Reports;Diagnostics Reports Charges - Accounting Software For Hospital, Financial Accounting Software for Hotels, Hospitals, Traders, Petrol Pumps - Hospital Management Software, Hospital Software, Accounting Software for Hospitals, Accounting and Business Management Software for hospitals, nursing homes, diagnostic labs. Modules : Rooms, Patients, Diagnostics, Payroll, Accounts & Utilities. Free Trial Download. Financial Accounting Software Reseller Sign up, Resellers are invited to visit for trial download of Financial Accounting software for Traders, Industry, Hotels, Hospitals, petrol pumps, Newspapers, Automobile Dealers, Web based Accounting, Business Management Software.
Here all the diagnostics reports are listed by default. The datagrid below is readonly and no changes can be made. You have to enter the fee charge amount for each report whose title is displayed above. You can navigate up and down by using the command button marked
NEXT
and
PREV(IOUS).

The account head for each report is also given by default. If you want to specify different account heads for these reports then first create each of these account heads in the accounts menu
Adding New Account Head
. When you have created all such account heads then open the above menu
Diagnostics Reports Fee Charge Setup
again
.
You can specify the fee charge for each report and select its account head from the list if required .Press command button marked
CHANGE
to change the account head for the reportand then press the command button marked
NEXT
or
PREV
to move to next report and all the changes shall be saved automatically.
When you have finished check each item in the data grid below so that you can verify that all details have been specified correctly for each report.
You have to carry out this process only once and the setup is stored in the database for all future use.