HiTech Hospital Management System
Software system for Hospitals / Pathology Labs / Nursing Homes


Spermatic Fluid Report
hosfr.bmp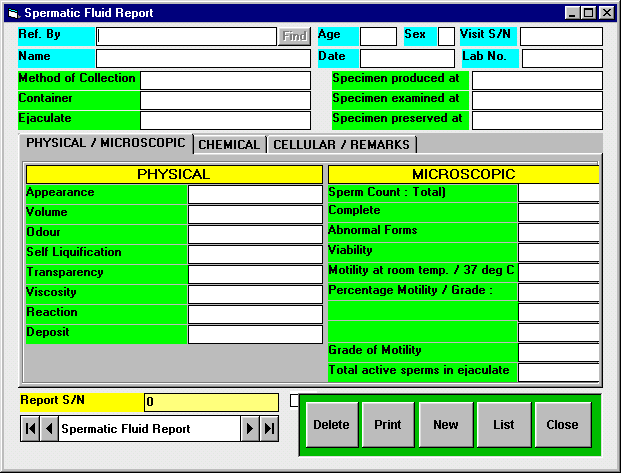 Spermatic Fluid Report - HiTech Barcode Software Center specializes in providing barcode solutions including barcode software, barcode printers, add-in barcode modules for printers for traders, hotels, hospitals, industries, medical stores, petrol pumps and many other user segments. - Hospital Management Software, Hospital Software, Accounting Software for Hospitals, Accounting and Business Management Software for hospitals, nursing homes, diagnostic labs. Modules : Rooms, Patients, Diagnostics, Payroll, Accounts & Utilities. Free Trial Download. Financial Accounting Software Reseller Sign up, Resellers are invited to visit for trial download of Financial Accounting software for Traders, Industry, Hotels, Hospitals, petrol pumps, Newspapers, Automobile Dealers, Web based Accounting, Business Management Software.

To prepare the Spermatic Fluid Report for patient use menu command Spermatic Fluid Report . To create a new report press command button marked New on Data Command Button Group - Pathology reports . The caption of this command button will change to Save and the other command buttons etc. will be disabled. The data fields will become empty so that you can enter a new record. A new report serial number will be generated. Report serial number must be specified. To select the patient from the list press command button Find located beside patient name. A window with the names of patients who are still not discharged will be opened. Select the name of any patient from this list, either double click the name or press command button marked OK . The various details of the patients will be fetched from the patient registration database. You can also type in the various information directly in the blank fields if the patient has not registered. However, this name will not be added to patients' registration.

hosfr1.BMP






Spermatic Fluid Report - Accounting software for many user segments in trade, business, industry, customized software, e-commerce websites and web based accounting, inventory control applications for Hotels, Hospitals etc. - Financial Accounting Software for Hotels, Hospitals, Traders, Petrol Pumps, Visit for trial download of Financial Accounting software for Traders, Industry, Hotels, Hospitals, petrol pumps, Newspapers, Automobile Dealers, Web based Accounting, Business Management Software. Financial Accounting Software for Business, Trade, Industry, Use HiTech Financial Accounting and Business Management Software made specifically for users in Trade, Industry, Hotels, Hospitals etc. Increase profitability through enhanced business management.

If the report contains more data to fill then it could be arranged under 2 or more tabs. You can show any panel by clicking the tabs. All the panels of the report shows the information to fill in. You can fill in other details about this patient. When you have made all the entries and want to save then press the command button Save again. You will be asked if you want to save this record. Answering lquote Yes' will save the record.

Press command button List to get a complete list of all reports in the database. You can prepare this list based on Visit Date, Referring Doctor or the name of patient. For example you can list all the treatment records of all the visits of a patient by specifying his name. Click Listing / Editing Reports to see more details on listing and editing reports.

Press command button Delete to delete the current treatment record which is displayed. You can either scroll the records using Data Control or use the List command button to select the appropriate record before deleting it.

Press command button Print to print the letter. The report will be printed on the screen in a separate window. You can preview it before actually sending it to printer. For help on printing this report see the topic : Printing Crystal Report .

You can change the format of this pathology report easily. All the labels in the report and the captions of the different tabs can be modified. Also the normal values in the report can be modified. The title of the report can also be changed. You have to make the changes only once and they become applicable to all the reports you will create after modification. These parameters for the report are help in a database. To see the details of how to change the report format please click the link : How to customize pathology reports .