Hospital Management Software with Accounting & Billing
---
Discharge/Make Bill of Indoor Patient
Make Bill Of Indoor Patient, Indoor Patient Billing
hodp.bmp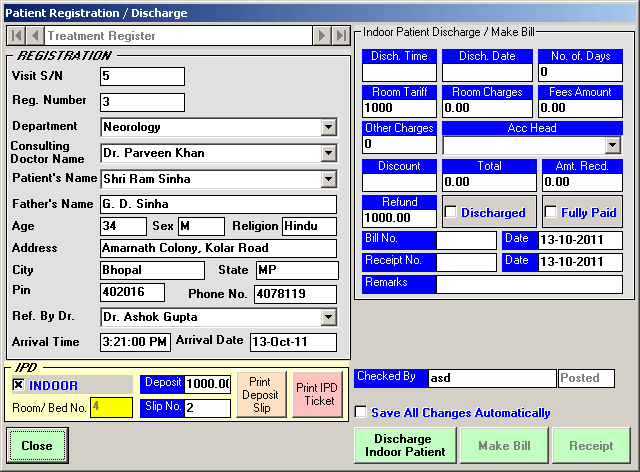 Make bill of Indoor Patient; Indoor Patient Billing - Financial Accounting and Business Management software for Traders, Industry, Hotels, Hospitals, Medical Suppliers, Petrol Pumps, Newspapers, Magazine Publishers, Automobile Dealers, Commodity Brokers. - Financial Accounting Software for Hotels, Hospitals, Traders, Petrol Pumps, Visit for trial download of Financial Accounting software for Traders, Industry, Hotels, Hospitals, petrol pumps, Newspapers, Automobile Dealers, Web based Accounting, Business Management Software. Financial Accounting Software for Business, Trade, Industry, Use HiTech Financial Accounting and Business Management Software made specifically for users in Trade, Industry, Hotels, Hospitals etc. Increase profitability through enhanced business management.
All the patients which are indoors and have not been discharged will figure in this list. To display this window give menu command
Discharge/Make Bill of Indoor Patient.
Select a name form this list, double click it or press command button OK. When you have selected the patient in this manner then a new window for patient discharge will open as displayed below.
To discharge a patient click the button
Discharge Indoor Patient
and then check box
Discharged
will automatically have (X) mark. This mark means the selected patient has been discharged from the hospital. Here in this window the departure date and time will be taken from the computer. Also all the payment details like number of days, tariff, room charges if any, will be calculated for the for the patient from the record. These values will be grayed, meaning, they can not be modified by the operator here.
You can print the bill by clicking the command button marked
Bill
, to print receipt click the command button marked
Receipt
. Please see the following topic to get help on creating the bill :
Creating Indoor Patient's Bill on Discharge
You have to fill in the amount received from the customer which should be equal to the total amount or the bill will be marked pending. The operator or the front office manager should also specify the initials in the field marked Checked by.
To finish the check out process press command button
Close.
The amount is posted in ledger in INDOOR FEE COLLECTION ACCOUNT for indoor patients and for outdoor patients the amount received is posted in OUTDOOR fee collection account. For both of these account heads the control account is FEE COLLECTION account.